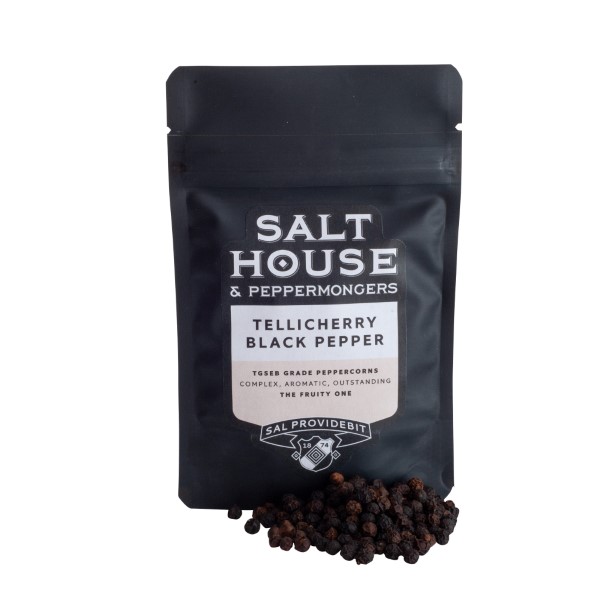 Tellicherry Garbled Special Extra Bold (TGSEB) is the highest quality black pepper in the world. Only the largest 10% of peppercorns, measuring at least 4.75mm in diameter make the grade. Our organically grown TGSEB Black Pepper is hand-harvested and sun-dried in the hills of the Western Ghats, Kerala, India.
Delivered in a resealable pouch to preserve absolute freshness.
Please note: The packaging colour may differ from the image shown.
Taste notes

Rich essential oils gives a complex, fruity aroma.

Great with

Great with sauces, steaks (and chips). Try with cupcakes, meringues and in Bloody Mary's. The larger size peppercorns mean fewer go further.

Pack Weight

50g

Country

India

Producer

Peppermongers
Delivery Information
We try to send our orders the same or following day. It will take between 2 and 3 days to deliver. You'll receive a tracking number as soon as your goods are on the way if your package falls within the specified requirements.
From The Blog
Buy your Peppermongers Classic Collection Box Here A restaurant stalwart, the only thing that beats a classic Steak au Poivre with Peppercorn Sauce is two Steak au Poivres with Peppercorn Sauces. A good peppercorn sauce is magic. It transforms a meal. (We...
Sample Recipe
Tags
gourmet, Peppermongers, Salthouse, peppercorn sauce recipe, peppercorn sauce, gourmet pepper, peppermongers peppercorn sauce, salthouse and peppermongers, steak and peppercorn sauce, valentines recipes, valentines day cooking, valentines day