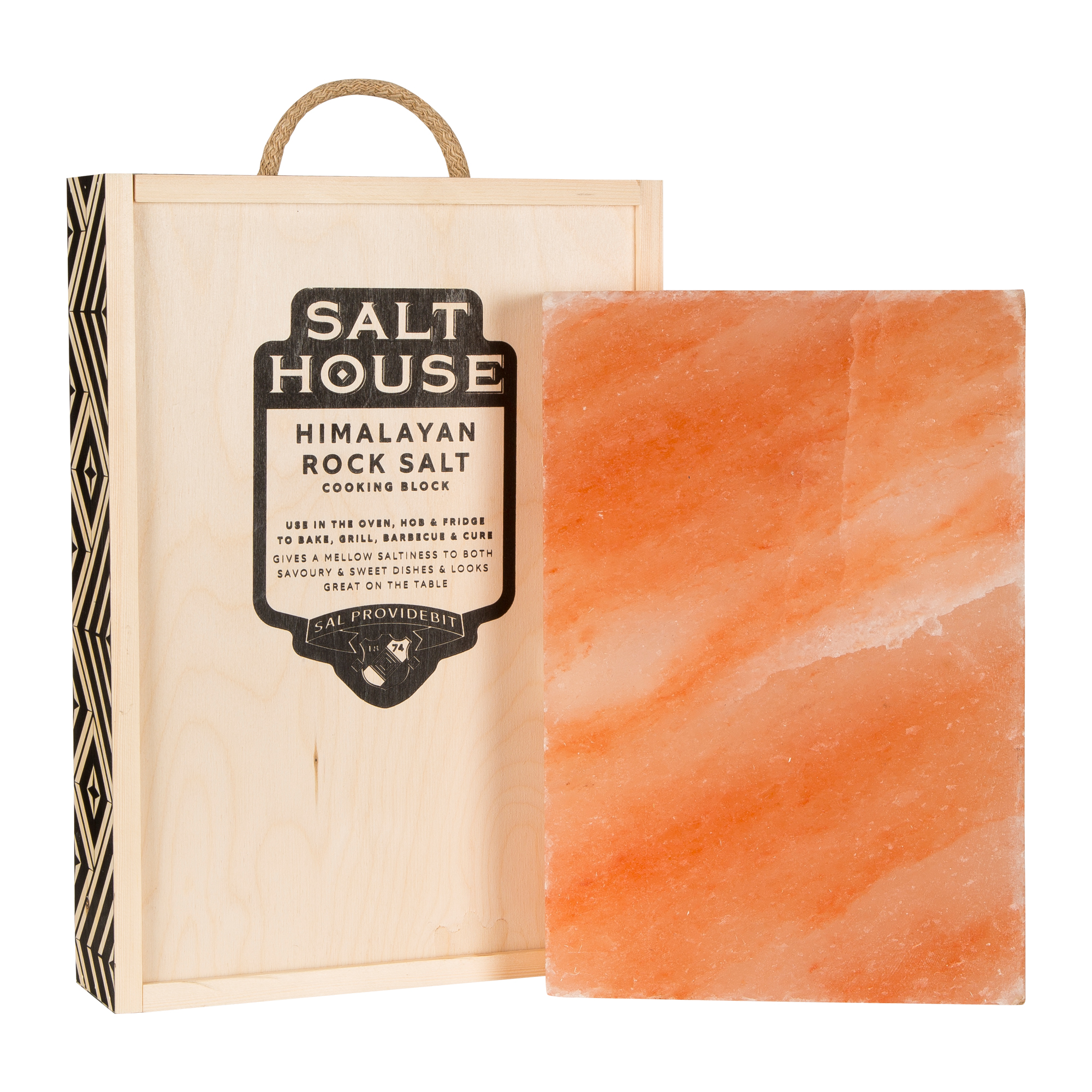 Posted by Salthouse / November 23rd 2020
Why You Should Have a Himalayan Salt Block in your Kitchen
Himalayan Salt blocks are a way to create healthier, tastier, more interesting meals but if you've never used one before you may not know where to get started. Don't worry: we've been working with salt blocks for over 140 years so we've learned more than a few things about their place in your kitchen and in your cooking..
So if you're thinking about whether or not to get hold of with one of the world's most unique culinary accessories, we've got a few reasons why you should make the leap…

The Flavour

First and foremost, your Himalayan Salt block is going to make your food taste better, offering a level of gourmet seasoning and depth that you just can't find in the supermarket. Juicy grilled meats and fish, roasted veg, and even desserts… your salt block is going to expand the profiles of the food you cook.
The Nutrition
Did you know that Himalayan Salt contains over 84 constituent elements in natural mineral form? Those nutrients are essential for health and wellness, helping to balance cell pH, stimulate brain activity, and regulate the body's water content - not to mention providing an excellent source of magnesium. Cooking with Himalayan Salt means infusing your food with those benefits, enhancing the nutritional value of your meals.
The Heat
Beyond its nutritional benefits, Himalayan Salt cooking is actually a way to heat your food more evenly and efficiently. The crystalline structure of the salt block ensures that heat is distributed across the entirety of its surface, so no matter where you place it, you'll be able to cook that steak you've been looking forward to exactly the way you want it.
The Experience
There's a certain style to cooking with a Himalayan Salt block. A slab of pink mineral is an eye-catching sight in any kitchen, whether you're cooking on the stove-top or grilling: you could even use the block as a platter to serve your creations. If you're looking for a new cooking experience, or just a conversation-starter, your salt block is going to fit the bill.
The Efficiency
You'll use every inch of your salt block over the course of its life-cycle. As you cook more frequently, the block will gradually dissolve, getting smaller and eventually breaking up into pieces. You can use those too: grate them over your dishes to season and voila: nothing wasted!
The Possibilities
If you're choosing to cook with a Himalayan Salt block it's probably safe to say you're looking to expand your culinary horizons. You're in luck: not only will you be able to infuse your food with a range of flavour and health benefits but you'll be able to explore a landscape of new recipes, techniques and ideas… many of which you can find right here on the Salthouse and Peppermongers website …