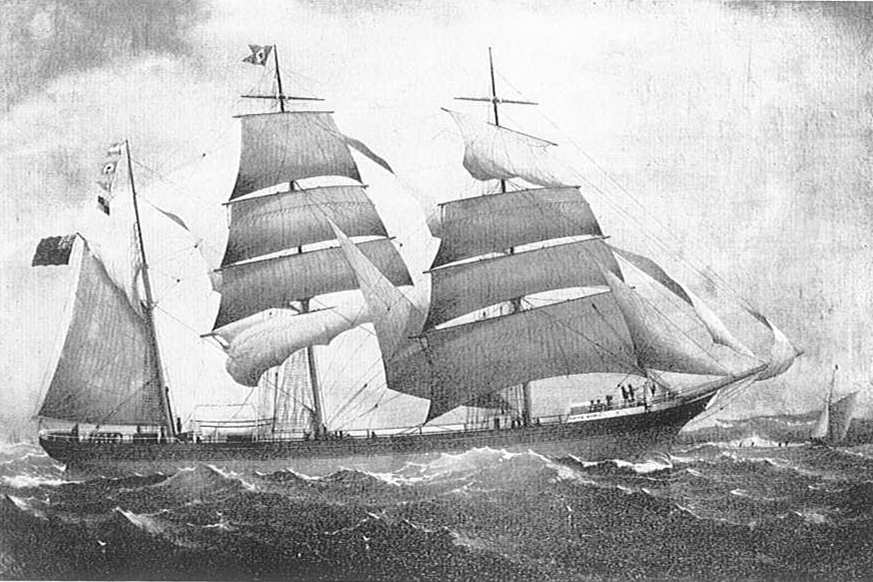 Posted by Gregorie / September 10th 2014
The History of Salthouse
Our salty spirit is probably best summed-up by the adventures of one of our earliest employees, the heroic Captain Davies and his Clyde-built ship the Edith Mary – named after the company owner's daughter.

With fine malt whisky in his cabin and precious salt in her ship's hold, Captain Davies and the Edith Mary navigated the treacherous Atlantic Ocean, sailing intrepidly from port to port, discovering and trading local delicacies before bringing the finest of them home.
One of Captain Davies' most challenging tests occurred on the 18th of October 1898 off the south coast of Brazil. In his ship's log he committed the words…
"… three days out from Rio Grande we had the wheel broken and companion doors smashed and cabins full of water, water cask broken-up, pump broken…we had to lay-to after running before a heavy gale …".
The following day he described how the Edith Mary had taken on sea over her stern, snatching a man from the ship's wheel as strong waves swept across the ship. He then finished his letter:
"… I am fagged-out. I want a spell. Things have been very contrary with me this last voyage…".
After five and a half years away from shore Captain Davies finally enjoyed some well-earned respite in the bosom of his loving family, where he regaled them with tales of his travels and adventures as well as the wonderful and unusual foods he had discovered. Such passion and joy was in his story-telling that he sailed two days late for his next, and final voyage.
The last words heard of Captain Davies and the Edith Mary were on 21st January 1905. A newspaper headline of the time simple stated 'Glasgow Barque Lost – Crew Missing' before elaborating that "…nothing has been heard of her since leaving port except that two lifebuoys were picked up on the shore to the west of Cape St. Mary on the Newfoundland coast on Christmas Day…the crew consisted of ten men, all of whom are believed to have perished…".
The Captain's sense of adventure lives on in Salthouse today, that sense of derring-do and thirst for new discovery, a love of the exotic and taste for the best the seven seas can bring. There's a whole, wide world to explore so let's set sail.