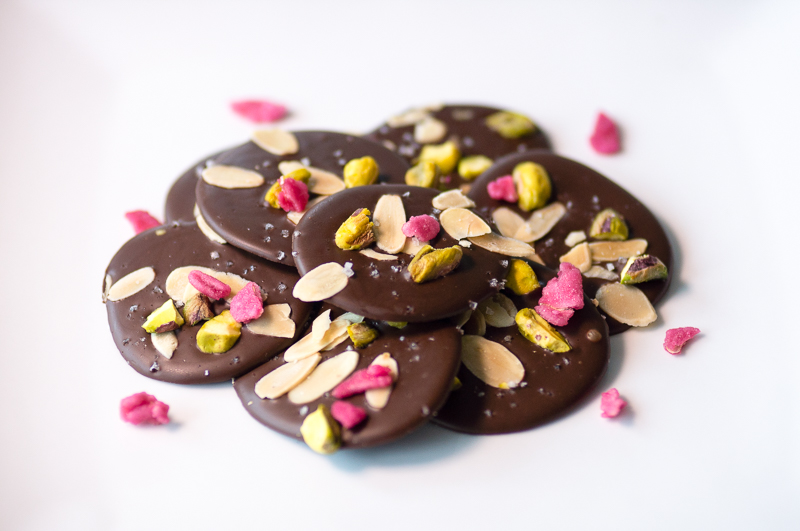 Posted by Gregorie / October 15th 2014
Salted Chocolate Buttons
"These little darlings look amazing and taste heavenly. They are fun to make too, which is just as well because they never linger for very long. The key to success here is to use a really good quality chocolate and Balinese Sea Salt Finishing Salt. If youâ're finding it hard to procure the right nuts or the candied peel then don't worry, just get whatever you can and have a go. Half of the fun here is experimenting and coming up with your own ideas."
Ingredients
Makes about 12 large buttons
120g dark chocolate
2 x tablespoons chopped pistachio nuts
4 x tablespoons of flaked almonds
1 x teaspoon caster sugar
2 x pinch Balinese Sea Salt Finishing Salt
1 x teaspoon candied peel
Method
Preheat the oven to 180C.
Melt all the chocolate in a bowl. This is best done in a heat-proof bowl over a pan of simmering water. Break the chocolate up into small chunks and then heat. Before it is all melted, remove from the heat and stir gently. The remaining heat should finish off melting the chocolate nicely.
Layer the almonds out evenly on a baking tray and roast in the oven for about 2 or 3 minutes. They should just be starting to change colour. Take the almonds from the oven and sprinkle the sugar over them. Stick them back in the oven for 1 more minute.
Take a tray that will fit into your fridge and line it with baking paper. Once the chocolate is all melted and warm, drop large button sized drops of it gently onto the lined tray. While the chocolate buttons are still warm scatter the almonds and pistachios over them, sprinkle them with the Balinese Sea Salt Finishing Salt and the candied peel for colour and texture.
The buttons need to be chilled in the fridge for about ½ an hour but you can always try one before then if you need to. Once chilled, prise the chocolate from the paper and arrange them on a plate for serving. You can scatter some more peel and nuts over them for decoration, but don't let them sit in the warm for too long or they will begin to melt.