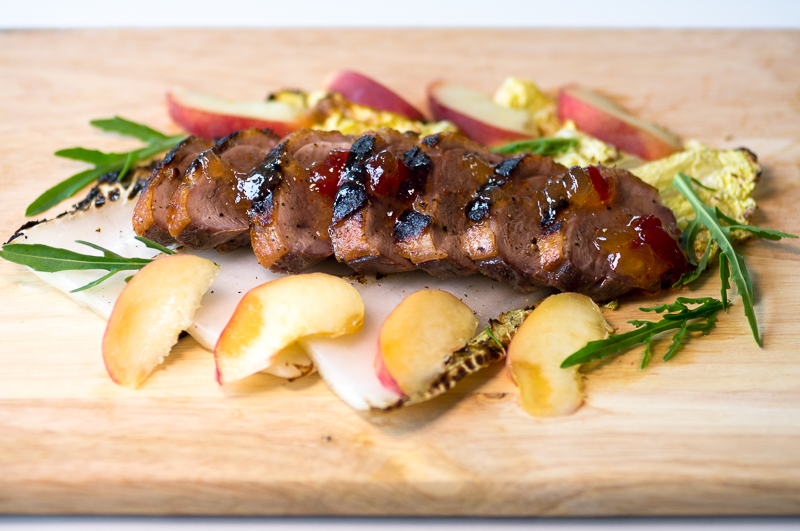 Posted by Gregorie / November 20th 2014
Salt Cured Duck Breast
"Duck is a firm favourite of mine and I am always looking for new ways to cook it. Curing the breasts with Sel De Guerande gives the meat a new dimension of flavour. Duck always suits a sweet accompaniment and this dish is no exception. The extra salt flavour goes superbly with any berry preserve but in this case I have travelled a little further East to serve it with a sweet chilli jam. The combination is formidable and really very moreish."
Ingredients
Serves 4
4 x skin-on duck breasts
2 x cups Sel De Guerande
1 x cup brown sugar
1 x tablespoon Tellicherry Black Pepper
2 x tablespoon sweet chilli jam
8 x large leaves of Chinese leaf lettuce
Method
Pat the duck dry with paper towels. Score the skin with a sharp knife. Try not to cut too deeply but make sure you cut into the fat.
Grind the Sel De Guerande, sugar and pepper together. Not too finely just make sure the ingredients are well combined. Place your cure mix into a non-metallic container which will be big enough to take the breasts as well.
Add the duck breasts into the container and make sure they are well coated with the cure mix. Leave the breasts in the cure for at least 4 hours, although overnight would work even better, and allow the salt to work its magic.
Once the breasts are cured remove them for the mix and pat them dry and try to remove as much of the cure as possible.
Roast the duck breasts at 180 degrees c for about 30 minutes. This should be done on a grated roasting tray to allow the fat to drip through. After about 30 minutes remove the duck and finish them off by either grilling or frying the skin to make it crisp up. This should take 2 or 3 minutes and the skin will turn golden brown and look scrummy.
To serve the duck, grill the Chinese leaves over a high heat for about 1 minute each side. The leaves will blacken slightly and start to lose their shape. Place 2 of the leaves on each plate.
Carve the breasts on the diagonal and then place the slices on top of the Chinese leaves. Lastly drizzle the chilli jam along the top of the duck slices and take them to the table. This is not a dish that most people will have tried before, but it is definitely one they will want again.