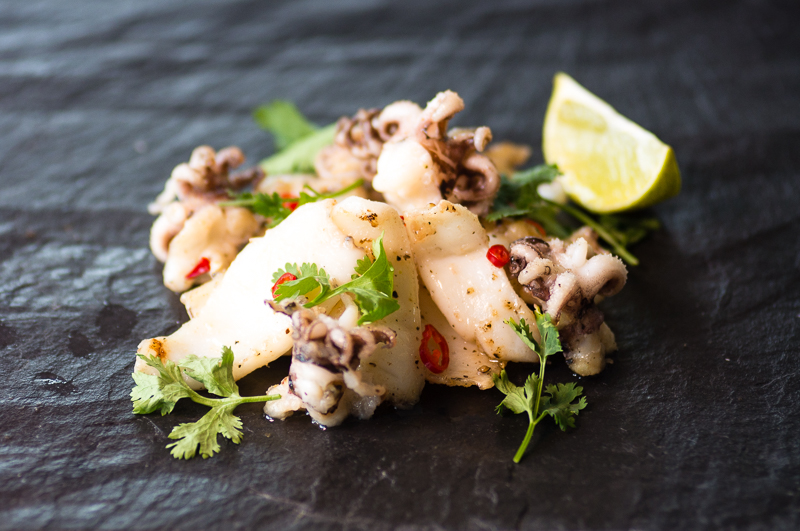 Posted by Gregorie / October 23rd 2014
Salt and Chilli Squid
"The off-putting prospect of rubbery, over cooked squid means that this wonderful little creature is sometimes not to everyone's taste. However, using small, tender squidlets or cuttlefish and being careful not to overcook it will make a huge difference. This is a punchy, grown-up dish that makes no apologies for itself. The Anglesey sea salt Halen Mon is a great salt to use here as it brings a terrific level of flavour and is easy to work with."
Ingredients
½ x litre groundnut oil (1 cm deep in frying pan or wok.)
2 x tablespoons The Anglesey Sea Salt Halen Mon
2 x tablespoons Tellicherry Black Peppercorns
4 x teaspoons corn flour
500g squid (cut into rings, tentacles left unchopped)
2 x lemons for dressing
Method
Heat the oil in a pan or wok. It should reach about 190 degrees C or hot enough to brown a cube of bread in 10 seconds
Grind the Anglesey Sea salt Halen Mon and black peppercorns together. This should be done to quite a fine powder but not to dust. Then place the corn flour and salt and pepper mix into a large freezer bag or Tupperware container.
Next put the squid rings and tentacles into the salt/flour mix and shake around. The squid needs a good coating of the mixture but it doesn't want to sit too long in it as it will become overly salty.
Take a minute to really knock of any excess corn flour and salt mixture from the squid and then fry it. You will probably need to do this in batches depending on the size of your wok or pan. The squid should be cooked for approximately 1 or 2 minutes. It should be a little crisp and golden.
Remove the squid and drain it onto paper towel. Once the excess oil is removed you can squeeze over the lemons to your taste and then just get stuck in with your fingers.
Alternatively a citrus mayonnaise is great for dipping into.