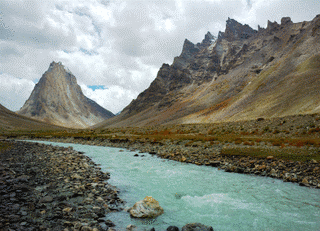 Posted by Gregorie / August 18th 2014
Lost in the Himalayas
"Salt is born of the purest parents; the sun and the sea" Pythagoras
Life's journey has led me down many different paths. However, I had little idea that one of the most enticing and exciting of those would be found stumbling, rather literally, onto the off-beaten tracks of the world's delightfully disparate salt roads.
My obsession with gourmet salt started purely by accident. My quest was not culinary but rather keen adventure and where better to seek it than at the top of the world, by climbing the giddy heights of our highest mountain, the inimitable Mount Everest. True to my particular form, I was undaunted by certain harsh realities, the most salient being that the sum of previous mountaineering achievements were tantamount to conquering just a few well-trod Scottish 'Munros'. But I relish a new challenge and with my masculine hubris in full flow, pursued this lofty goal unabated.
A few international flights later, some overland transportation courtesy of Nepal's most impatient bus drivers and finally astride a companionable but often irritable donkey, I arrived in the shadow of the mighty mountain. With strained neck and squinted eyes cast upwards at the immensity of Mount Everest, towering among the Himalayan ranges before me, the reality of my somewhat naive ambitions hit home.
Still, I had come all this way, it would be more foolish not to embark on a less challenging trek or two and so I restricted myself to some of the lower passes, eventually making the breathless climb to around 18,000 feet whereupon I surpassed myself by accidentally disposing of an essential-filled rucksack into an icy, fast-flowing river and promptly getting lost for two days and nights!
There in the wilderness, with all the sage and ageless wisdom of a rather exhausted buddhist monk, I had two epiphanies. Firstly, and to my eternal sadness, I conceded that my mountaineering days were probably over. But secondly, to my eternal joy, I discovered Himalayan salt. The latter revelation was to shape a whole new adventure for my soul.
Until this point in my journey, I considered salt to be simply salt. The unerring laws of chemical composition could not be bent or broken surely? That simple bond between the eager elements of sodium and chloride, must compose an identical compound no matter where in the world they found themselves coming together?
WRONG!
Or partly wrong, at least.
Unequivocally, salt in its purest sense is true to the ionic form previously described. But my Himalayan experience enlightened me, allowed me to look past the physical and learn about salt's true nature. I learned that this humble crystalline substance can be far more that the sum of its atomic parts, it can exhibit and exude unique nuances, drawing on the myriad of different ways and manners of its creation. Like a grape's terroir or a malt whisky's nose, the product can be shaped and formed by provenance, its special place in the natural world in which it finds itself so skilfully made.
Upon my return I resolved, therefore, to scour the globe in an attempt to discover what other hidden secrets existed within this wide and salty world. Who made them, what techniques did they employ and from where did these humble crystals take their form. In doing so I found an abundance of history, tradition and artisan craft as well as a plethora of wonderful salt flavours with which to heighten my existence.
These discoveries I bring now to you, loving gathered under the roof of what I have called "The Salt House". My sincere hope is that you too can experience all the well seasoned tastes our incredible planet has to offer and discover your own epiphanies through the wonderful medium of salt. Hopefully without having to scale major mountains to do so.
In the spirit of my ever adventurous great-grandfather, John Craig Peacock, his ship "Peacock Venture", and the company he founded, please join me in this new endeavour and share with me an enthusiastic and passionate desire to pursue and explore this most peculiar of condiments across our many continents. Many new cultures and experiences lie ahead, seen through the prism of salt's crystals, and I'd love to share them here with you.