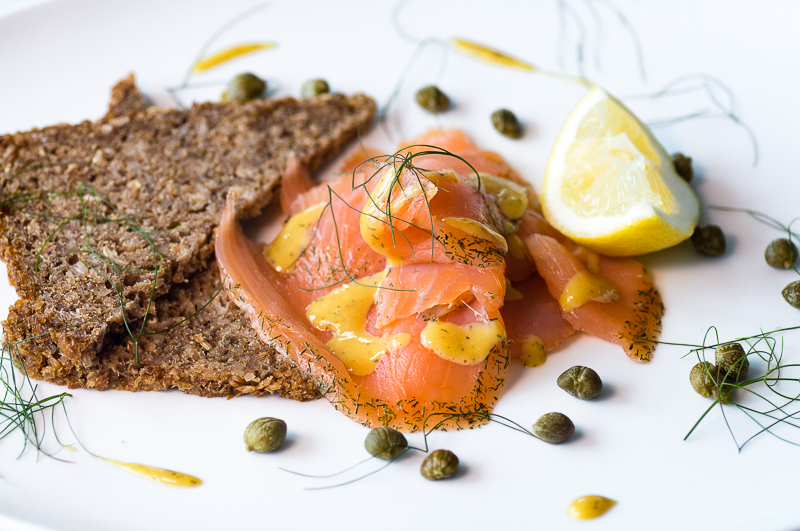 Posted by Gregorie / November 6th 2014
Gravad lax
Gravad lax is Swedish for cured salmon, a technique which imparts a delicate and beautiful flavour and really transforms the feel of the fish. I first tried this dish in Gothenburg and was blown away by the taste and texture and was determined to recreate the dish when I got home. It's simple to do and always impressive to lay out for guests, the hardest bit is waiting for the curing to happen. The fish isn't actually cooked during the curing process, so if you have any concerns at all you can freeze your fresh salmon for 24 hours and then simply defrost slowly before commencing.
Ingredients
2 x 200g approx. Salmon fillets (Ideally the same size and shape)
150g Marlborough Flaky Sea Salt
150g Caster sugar
30g Coriander seed
50g Tellicherry Black Peppercorns
200g dill sprigs
Method
For the sauce:
3 x tablespoons cider vinegar
50g soft brown sugar
50g clear honey
50g Dijon mustard
2 x teaspoons vegetable oil
1 x handful of dill sprigs.

Lay the two salmon fillets skin down on a sheet of Clingfilm. Leave about 6 dill sprigs aside and then chop the rest finely. Spread the chopped dill evenly on top of each fillet.
Grind together the caster sugar, coriander seeds, black pepper corns and Marlborough Flaky Sea Salt. Once this is done, press the mix firmly onto the top of each fillet. Take the remaining dill sprigs and place them on top of the salmon fillet which you will be turning over. This will hopefully keep your cure mix in place when flipping.
You now need to place one fillet on top of each other, cut side to cut side. It makes sense to try and place them thick edge to thin edge. Wrap the salmon fillets in several layers of Clingfilm and then place your parcel in a bowl in the fridge for 24 hours.
To make the mustard sauce, mix all the ingredients together in a blender.
After 24 hours un-wrap your salmon parcel, separate the fillets and rub off most of the cure. Lay the fillets skin side down and then using a super sharp knife carve off slivers of the beautiful salmon. Try and leave a layer of the dill on each slice as this will add to the flavour and the aesthetic.
Serve with brown or black bread and drizzle over the mustard sauce. Fantastic!