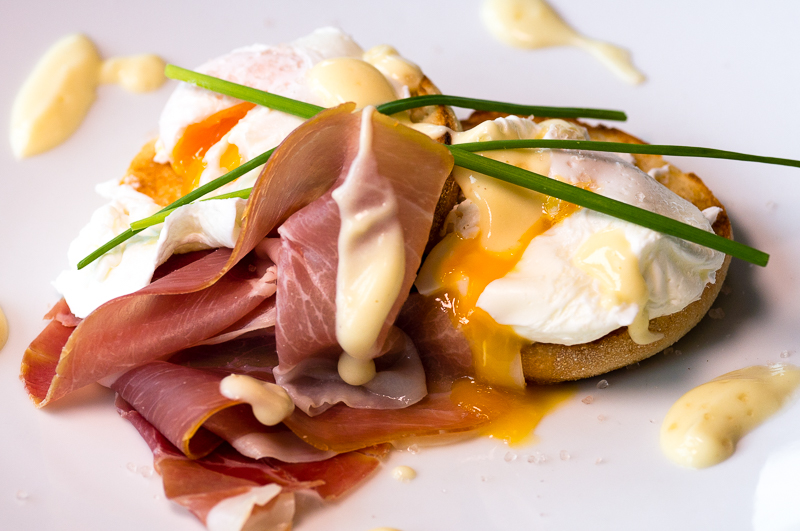 Posted by Gregorie / October 2nd 2014
Eggs Benedict
"Simply the perfect way to start the day. Whether you're a fish fiend or ham lover, it's the eggs that are the star of the show here. Using Hawaiian pink sea salt gives a distinctive flavour and a beautiful finish to the dish. This is a great way of spoiling yourself on a lazy Sunday morning."

Ingredients (Serves 2)
2 or 4 super fresh free range eggs (depending on how hungry you are.)
2 x English muffins halved
1 x tablespoon white wine vinegar
Butter for spreading
3 or 4 slices of good quality ham or 200g smoked salmon.
2 stalks of chives snipped for garnish

For the Hollandaise:
225g/8oz melted butter
1 x shallot finely chopped
10 x Tellicherry Black Peppercorns
3 x super fresh free range egg yolks
¼ x teaspoon of Hawaiian pink sea salt
½ x teaspoon of caster sugar
4 x tablespoons of white wine vinegar

Method
Place the vinegar, shallots and peppercorns in a pan and bring to the boil. Reduce the liquid by half.
Place the egg yolks, Hawaiian pink sea salt and sugar in a bowl over boiling water and whisk until they become pale.
Keeping the egg yolk mixture over a low heat, pour the vinegar liquid through a sieve into it and whisk together.
Slowly add the melted butter to this mixture constantly whisking. Do this until you are happy with the consistency of your sauce then season to taste. Set aside and keep warm.
Toast your muffin halves and spread with butter.
To poach the eggs, get a pan of water simmering and then add 1 tablespoon of white wine vinegar. Break the eggs into a separate bowl so that you can pour them into the simmering water without them breaking. Poach the eggs for 2½ minutes. Remove the eggs and drain them on paper towel.
To plate up place the muffins on your plate topped with ham or salmon, and then place poached egg/eggs on top. Sprinkle on more Hawaiian pink sea salt. Drizzle on the hollandaise and scatter on the chopped chives. Serve straight away.