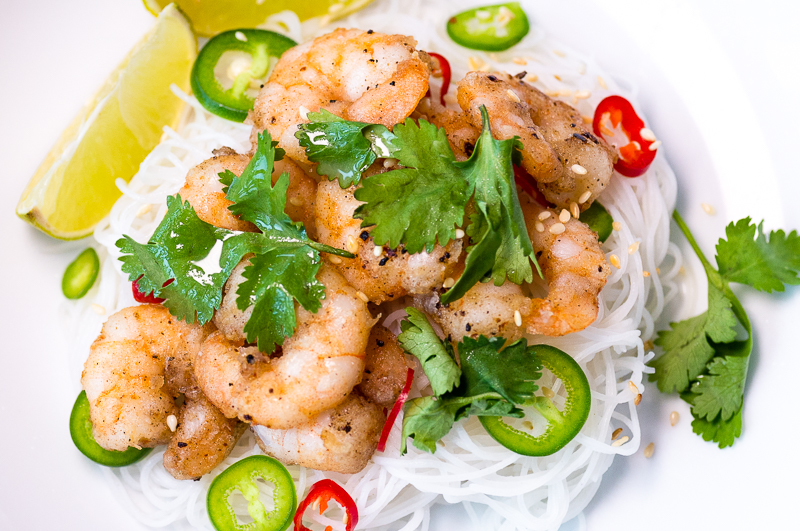 Posted by Gregorie / September 25th 2014
Chilli Salt Prawns
"A celebratory meal in China and one of my all-time favourites when dining out. The sweetness of the prawns, spiciness of the chilli and saltiness of this dish is a winning combination in anyone's book."

Ingredients (To serve 4)
750 g Large raw peeled King Prawns (If the tail can be left on, all the better.)
2 x tablespoons corn flour
2 x teaspoons Hawaiian Red Alaea
1 x teaspoon Muntok White Pepper
1 x teaspoon chilli powder
1½ teaspoon Chinese 5 spice
1 x litre groundnut or peanut oil.
Coriander and lime wedges to serve
Method
Heat the peanut oil in a large wok or deep fat fryer until it reaches 190 degrees C.
Combine the corn flour, white pepper, 5 spice, chilli powder and salt in a large freezer bag or suitable container.
Place the prawns in the with the spice mix and gently shake around to make sure that they all have a good coating.
When ready to cook, place the prawns in the oil. (The oil should be hot enough to turn a cube of bread brown in 10 seconds.)
The prawns will only take a minute or so to cook in the oil. Remove the prawns from the oil when they turn golden. Be careful not to overcook them.
The prawns may need to be cooked in batches depending on the size of your fryer or wok. If this is the case please allow the oil to come back up to temperature before adding the next batch.
Drain the prawns on paper towels to absorb any excess oil and serve with lime wedges and sprinkled with coriander.
These are great with noodles or sticky rice, or as a nibble in their own right.